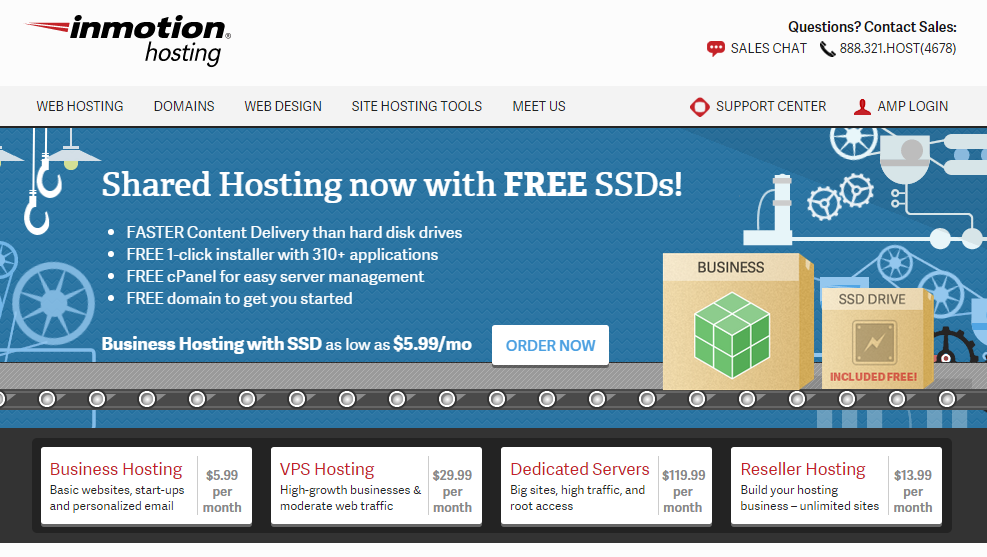 There are a lot of hosting companies out there, but one stands out. That's Inmotion. It's the hosting company I recommend to my friends and colleagues. In this brief review I will share why I think they are a good choice for virtually any size of web site.
They have a Great Uptime Record
Based on several web sites hosted by them for several years, I can only say that their uptime is what you would expect from a premium hosting company. It's  well over the standard 99.99% in my experience.
Don't forget that hosts that promise 100% uptime are:
lying
don't know what they are talking about
or they cost an arm and a leg.
I believe I don't have to explain the importance of uptime to the readers of this blog. Do I?
You can Upgrade any Time
You will probably start with one of the business hosting plans. According to the majority of the Inmotion Hosting reviews, that's more than enough for most websites just starting out. But if you grow that out, you can easily upgrade to a VPS or dedicated server. It's all in-house. You work with the same people and the same standard you get used to while you grow your web site.
When would you need a VPS or a Dedicated Server?
VPS stands for Virtual Private Server. It's the little sister of dedicated servers. Basically it's a dedicated server separated into several pieces, acting as a separate server. The resources are dedicated to you, so you can expect better speeds, uptime, more memory and disk space.
With Dedicated servers, it's taken to the next level. A whole server serves only your web site. It's the ultimate performance and security.
Features You can Expect at Inmotion Hosting
I will list them very briefly since it's well explained on their web site. So just to highlight…
Free SSDs: Solid State Drives deliver awesome speed compared to traditional HDDs. You get them with every Inmotion plan.
Free domain name: You get one domain name registration for free with your account. If you don't register one at your account setup, you will receive credits that you can use anytime in the future.
Industry leading 90-day money back guarantee: That's right, it's not a typo. For 90 days if you are not satisfied, you can get your money back.
Free Data Backups: Most web hosts charge extra for this. At Inmotion your data is regularly backed up, so if you have any troubles with your web site, you can simply revert back to a previous version.
Free 1-Click installer: Over 310 web apps (like WordPress) are at one click's distance.
Multiple programming languages supported: Use PostgreSQL, MySQL, Ruby, or PHP, whichever suits you better. Inmotion's servers are compatible with every one of them.
Secure IMAP email: Very few web hosts offer secure IMAP emailing. You can access mail from anywhere on any device.
"Max Speedzone": Inmotion utilizes multiple data centers. The closer it is to you (and your prospects), the faster the web site will load. Premium bandwidth providers and advance routing technology ensures that speeds at Inmotion are better than at their competition.
SSH access: It's a great feature to have. If you don't know what it is, you will likely never need it.
Google Apps plugged in: Do you want to use Gmail or some other Google service? It's all built into cPanel, so you can set them up with a couple clicks.
They have Opened a Green Data Center
Inmotion hosting is commited to reduce their carbon footprints. They have opened their first green data center in Los Angeles. More and more hosting companies realize the importance of being green.
$250 Worth of Bonuses
You have set up your web site. Now what? It's time to get some visitors! Through partnerships, Inmotion hands you ad credits to Google, Facebook, Bing and Yellowpages. You can jumpstart your business right away!
A+ Rating at Better Business Bureau
Before you do business with any company, it's probably good to know how they've handled their customers at the past. An A+ BBB rating shows that Inmotion is willing to take the extra mile to make sure that their customers are fully satisfied with their services.
Check out this special offer. It's valid for a limited time!
http://www.xtremweb.net/wp-content/uploads/2015/09/inmotion-hosting.png
557
987
XtremWeb
http://www.xtremweb.net/wp-content/uploads/2016/10/xtr-logo2.png
XtremWeb
2015-09-10 00:11:05
2017-02-17 22:43:58
Inmotion Hosting Review