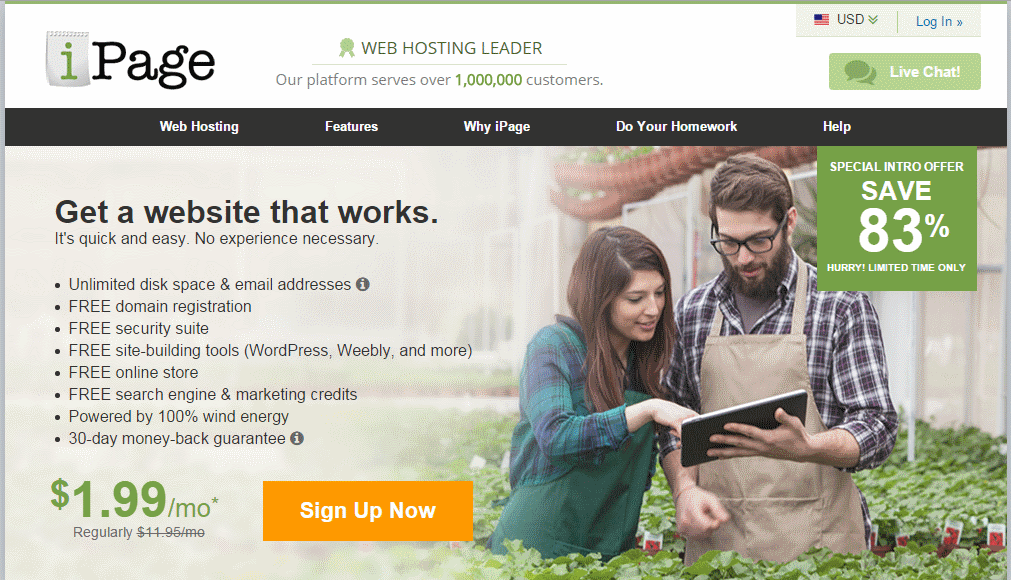 Do you know what uptime is? It's the opposite of downtime, the time your website is unreachable. It's the single most important thing of a hosting account. We have recently signed up for an account at iPage and thought I would write a short report/review about that.
[wp-review]
There is no 100% Uptime
At least not at the price level most small businesses or casual bloggers would consider a viable option. I mean I'm sure that for 100 bucks a month you can find a company that offers 100% uptime, but it's still questionable if they can keep it.
In my experience with a dozen or so of the mainstream hosting companies is that the 99.9% uptime guarantee is quite sufficient. I have not noticed any downtime, other than a hacking scandal at one of them.
Bottom line, don't look for 100% uptime unless it's mission critical and you have loads of money. With iPage, most of the downtimes you will experience will likely be scheduled downtimes.
VPS and Dedicated Hosting
Need more horsepower for your website? iPage is ready to serve you. Virtual Private Servers give you the power of a dedicated server for a fraction of the cost. It functions exactly like a dedicated server, but with lower performance.
A dedicated server is set up only for you. No other customer can access it; the resources are used exclusively for what you have put on the server.
Features
Before writing this post, I have looked around on Google for some iPage reviews. There were a couple of negative ones, but most of them illustrated quite a positive picture. There are many detailed reviews of various features, so I will only mention them briefly here.
You can set up WordPress, Joomla, Drupal with only a couple clicks. You can add on domains to your account. You also get a free domain with your account when you sign up. You can add an unlimited number of domains to the account. There is no limit on FTP accounts and storage. MySQL databases are also unlimited.
If you want to have a professional looking email with your domain name in the address, iPage has an easy solution for that too.
Who is it good for?
You don't have to be a 10-year veteran to find your way across the multitude of tools iPage offers. The vDeck control panel is one of the easiest to handle I have ever seen.
Wich Plan to Choose?
Should you go for the basic shared hosting, or rather for a VPS or dedicated server? I think for most of you guys out there, the basic shared hosting is the ideal one. I have noticed that people often overestimate how much they need regarding server performance. For a starting blog, you are lucky if you get 100 visitors a month unless you are some celebrity.
If you are moving an existing project from a different web host, then it's an entirely different story. You will know the exact requirements based on your experience with the other web host.
How to Choose a Domain Name?
There are numerous articles on how to choose a domain name for your website. Ideally, it should be under ten characters, with no dashes and numbers in them. We don't follow that advice on Managed Hosting 4 India, do we? If you look at the most prominent sites, they have goofy names like Google, Twitter and a bunch of others. So I would advise something like that.
I would also go for .com or .net, although there are a lot of new TLDs. It's just a matter of whether your visitors will be able to remember it.
Good luck with your new website!
https://www.xtremweb.net/wp-content/uploads/2016/01/ipage-bg.png
580
1011
XtremWeb
https://www.xtremweb.net/wp-content/uploads/2016/10/xtr-logo2.png
XtremWeb
2017-01-19 18:27:06
2018-08-25 16:09:48
iPage Review